Western Digital 2.5-inch WD with integrated USB 320Gb Drive...
320 Gb Western Digital WD3200BMVU models and spare parts are now available for in-lab repair and full-scale data recovery support. Our team of hard drive engineers has been developed a perfected process for the successful digital data restoration from this type of failed laptop hard drives.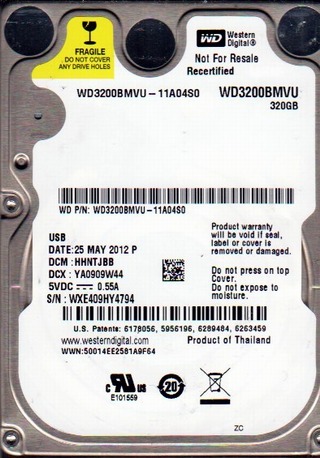 Picture 1
These digital data storage devices look exactly or similar to the images provided on Picture 1.
Data recovery for Michael C. Quinnipiac University Hamden, Connecticut United States
XP downloaded & executed automatic updates the night before. In the morning, the disk would not mount. I get a Code 10 error--'this device cannot start'
Thanks for the speedy, great service. Fantastic results! Michael
---