Western Digital Recovery by Data-R-US in few words
Data recovery for Pam F. Toronto, ON Canada
The computer was making a clicking noise, but it would still boot. Evenutally it stopped booting. We took it to a local computer shop and they got some but not all of the files.
Thank you. This is a pretty amazing job you have done on our hard drive. We are so pleased with the results as all our files are back, nothing has gone missed. I would recommend with a confidence your services to the others as they'd searched for ones.
Data recovery for Tom from Bronx, NYC
Failed RAID-0 with two Western Digital Drives in World Book II NAS case has Linux operating System. Second HDD is in working condition. The first drive is failed together with a blown controller board inside the NAS box. The NAS BOX is WD World Book II (Blue Rings). From the research I have done the drive are in Linux raid linear format. WORD DOC + Photos are critical files, and all other files are less important, but useful too.
Dear Data-R-Us.com team, thank you for excellent data retrieving result.
Data recovery for DMC Software, Inc. Grand Blanc, Michigan USA
Below are the headings and summaries of reports on two Western Digital drives, one a 120 GB drive and one an 80 GB drive that I gave to a firm in Baltimore to see if they could recover some of the files for my daughter. This firm wants $1900/drive to recover these files. This seems a bit high as the drives do not seem to be physically damaged in that the directory structure seems to be intact and all of the files are listed as 'Good' and do not have to be 'repaired.' In addition, I only want to recover two or three folders from each of these drives, things like My Documents, My Music, and the Identities folder that contains the Outlook Express email files. I can't afford to recover the data on these drives at anything near the price that the Baltimore firm wants. What do you think? Would it be worth sending these drives to you for recovery after I retrieve them from Baltimore? These drives were damaged when I tried to plug the power cable into a DVD drive while the computer was running.
Thank you for your efforts and reliable services; great value for money too!! All the best, George H. B.
Data recovery for Bruce B. Old Bethpage, NY USA
I was transferring images across the network to the drive and then got a blue screen error. On reboot the drive did not appear and could not be found. Got the clicking noise form the drive every few seconds. On reboot-drive not found and not recognized in BIOS.
Dear Sirs, Thank you for saving my data, your great work is much appreciated. I think I could not be asking for more, just flawless in any way. Thanks a lot, Bruce
Data recovery for Mike D. St. Michael, MN USA
Unable to access the drive
Thanks for your amazing service
Data recovery for Michael H. Clifton Park, NY USA
Makes clicking sound, computer will not recognize the drive (neither as the boot drive nor as a slave drive).
Thanks!
Data recovery for Ade M. Electrofunk Records USA
Drive is NOT visible in BIOS; failed in OS
Thanks for your expedited services!
Data recovery for Dan G. Marathon, Florida
The drive is clicking; I took this to my local shop. They couldn't read from it with their tech stuff. They said I needed professional help. There may or may not have been a power failure or surge. Computer was on in a.m. and when I came home in p.m. had a screen message that it couldn't boot.
Dear Data Recoovery team, I can't tell you how happy I am that I send my damaged hard drive to you for recovery. In spite of the fact that I did not request speedy service, you had a report for me within two days of the time you received it. On top of that, you recovered everything! I popped it into the computer and everything was there. I also liked the fact that you published your prices up front. I don't like dealing with vague guesses as to recovery costs. In spite of the fact that I hope I never have to use your services again, you will be the first people I contact if I ever lose a hard drive again.
Data recovery for Buildworks Construction Inc, Rosedale BC
Some power failures; then after use of generator, this drive would make a whining noise every 10 seconds or so, but failed to start up. Computer technician could not get the hard drive to be recognized.
Perfect result. Than you for the recovered files and cloned HDD. Dirk K.
Data recovery for Tony P. Clinton, IL USA
Drive DOESN'T SPIN
Thanks for recovering our data!
Internal HDD supported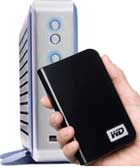 and external drives too
Did you just find out that your external Western Digital hard drive, containing your worthy data, is dead, broken, or malfunctioning? First off, there are no 'Do-It-Yourself' solutions when it comes to data loss, and you absolutely cannot use any of the data recovery software for damaged hard drive, as it might dramatically decrease the chances of successful recovery. Bear in mind that every time you power up the drive it will cause further damage to the data and eventually lead to its permanent loss. Only professional data recovery service can help you to handle this task. Also, make sure you are choosing the one with the right skills and experience, as there are ones misrepresenting its service as data recovery.
It is a dangerous for data safety to give drive into wrong hands!
in unsuccessful recovery attempts with all following consequences. Always ask the recovery specialist: up to what level of data recovery they provide? At Data-R-Us, we are qualified to work with completely dead WD drives, our highly trained technicians are fully prepared to perform a surgery on any crashed WD disks.
When choosing Data-R-Us as your data rescuer you cannot make a wrong decision, because we are the right people for this job. For your convenience, we have added the special online tracking system to satisfy all customers' needs in good order. You may log in and obtain the latest data recovery status of your order along with other related info, such as: S&R, work-in-progress, payment balance, etc.
Data-R-Us offers data recovery for Western Digital hard drives with ANY physical, electrical, or software failures. Often, in addition to data recovery, we recover the whole operating system that your computer was running before the crash happened. It can save you a lot of time as there will be no need to re-install the software applications and you can start using your data from back where you left off. Many, if not all, operating systems are supported, such as MS Windows or Mac OS.