Operating System Recovery
For the specialist there is no significant difference in the sequences of data recovery procedures used for different types of operating systems on the crashed computers or other failed data storages.
Although the data structure, that is built and used by MS Windows, varies from macOS or Linux, the recovery process on the software level is pretty much automatic and straightforward for most simple data loss cases.
But the data loss can be very extensive on physical level, when damaged sectors on the drive ('the data cells' of certain capacity, normally 512Kb, or 4096Kb) could not read with any means. These badly damaged devices must be treated with the special care. Regardless particular OS we must retrieve as much bytes of information as possible from each sector of failed media, whether it is a single hard drive, or group of drives organized in array (RAID systems) and continue with system data restoration on the software level. Partial data structure loss can be restored to its original or close to the original state by experienced engineer who is specialized in the operating system recovery with In-depth knowledge of all spectrums of computer OS systems, formats, file headers, signatures, markers, and data decoding. This data reconstruction process aims to make your data files and folders look just the way they were on your computer before disaster happened.
Most of the clients would prefer an accurate user data restoration (file copies) rather than go with actual system recovery which involves work with all system and program files together with the whole drive-image. Data-R-US provides very useful online navigation system to browse recovered folders with files. You will spot the location of your files in that browser faster when you have basic idea how and where your data stored on your computer with certain installed OS.
Apple MAC users can use the picture below as a map to macOS or MAC OS X file structure and as a hint to find their own user data files: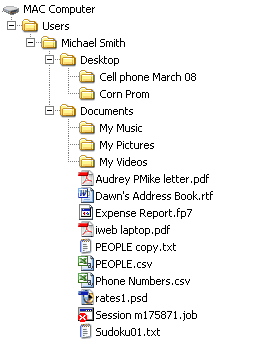 Pic.1 Data on macOS
Files in MS Windows are organized differently, but the user profile looks similar: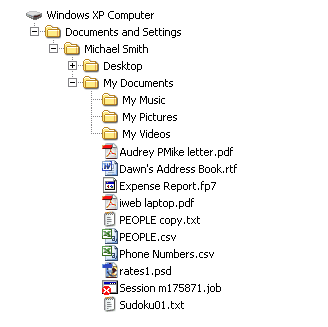 Pic.2 Data on MS Windows
Most likely, to the time when the data from damaged hard drive is restored, your computer will be repaired and have a replacement hard drive with newly installed operating system. With basic knowledge of file and folder order for your OS, you may move or copy recovered data to correct location. To integrate recovered emails or other specific to certain program or application data you may need extra instructions (can be found online) or get some help from a local computer technician.
You may order from our lab an exact mirror-copy of the original (failed) hard drive as a clone, on new HDD. It may work when all or almost sectors were recovered with no errors. The clone must be used in the originally failed computer (same motherboard, and preferably same processor). It will give you a chance to launch the operating system without any re-installations.