A Few Tips That Might Help You…
If you have not just yet made your mind to whom you'd trust restoring the lost data from your failed hard drive and going to continue the research about data recovery companies, we would like to give you a few tips that might help you to make the right choice. It might even help to preserve your inaccessible data from unqualified intrusion into your failed data storage, and warn about unreasonably excessive recovery budget.
To buy professional quality, does not necessarily mean 'break the bank'. Do your homework, some time to spend will be required and you will find a good business name with true, professional expertise who provide their high-quality service for much less, than those 'on top', just because they do not have an army of administration handlers to feed, but have the only purpose to serve those in need.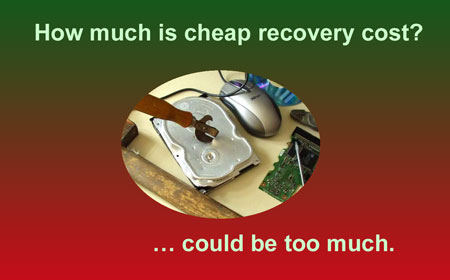 Do not fall for the cheap-at-first-sign service either, as those can be very tricky: enticing customers by the cheap prices in the reality have no capability to perform any complex recovery, moreover by applying their 'garage recovery' techniques to the already damaged media, might cause further damaged to the media with the possibility of permanent data loss. On the other hand, very expensive data recovery service does not always mean the adequately strong repairing skills and advanced techniques to deal with a failed drive. The high prices will rather reflect either, the big money spending over the Google's high-advertising ranks of website, which cannot be reliable - especially nowadays, or enormous administration staff to hang around.

At the end, do not give too many credits to nice-looking data recovery web-sites. You probably remember the story of how the best barber in the city always had neither the nice haircut himself, nor attractive barbershop. It is not far from being true: really busy labs simply do not spend as much on the web promotions and designs, as prefer to invest into the latest innovative technology in data storage restoration industry – just to serve better!

Again, the choice is always yours. Make it right at the beginning.
Few Successful Recoveries
Here, you can read some of the comments from Data-R-US customers: small, large business companies or people living near your home.
Lisa C., Mesa Arizona USA: Fujitsu
Motor broke... Recovery attempts: Hooked drive up to another computer to try to get it to spin, but no luck.
Dear Data-R-Us.com team,
Thank you so much for recovering my data! :) Thanks again and please think about sending some of your business cards to me when my drive is eventually shipped. I'd be more than happy to give them to the Apple Store to hand out to customers when their drives break/fail. The companies they recommended to me all quoted me $2000 to retrieve my data, so your company would be very much utilized I think if more people knew about you. :)
Lisa C.
Haw-Tzer C. Geneva SWITZERLAND: Western Digital WD10JPVT
Not spinning
Thank you for the nice work done. I received the recovered data on the external HDD. Sure I'll recommend you to anyone if needed.