Fujitsu Hard Drive Recovery
If you've got a faulty Fujitsu hard drive and the data is the really valuable for you, the best thing ever do is to take it to the professional data recovery place, like Data-R-US data retrieval service for bad or damaged drive. When computer shop or hired local technician are trying to backup your data from failing drive using software methods and programs, they rarely succeed in recovering all files. The second attempt, this time from professionals with the most advanced technology and skills may fail too - for the reason that drive already became unrecoverable in the first unprofessional try, by intense overusing device that suffers from malfunctioning parts - thus further damaging the hard drive with leading to possible permanent data loss.
Here, we have got everything to do the job right from the beginning: years of extensive experience, highly trained engineers, tools, equipment, fair price policy and thousands of grateful customers around the world. We can make the whole process of "data loss disaster" over as quickly as possible; most cases are done in one or two days with the best conceivable outcome. We guarantee a complete satisfaction or you owe us nothing - that is how confident we are that we can help you! The listed models of most often recoverable hard drives below processed in our lab with successful outcome regardless failure issues.
Most often recoverable Fujitsu by Data-R-US HDD-experts
Data-R-Us specializes in data recovery of malfunctioning Fujitsu hard drives (listed and not listed below). We provide highly professional and extremely cost-effective data recovery service worldwide. We recover data for all people around the globe, but the majority of our customers are from United States.
Data-R-Us is the name in data recovery world you can trust with no hesitation. But if you still not so sure that Us are the right company for the job, see for yourself what Data-R-Us worldwide customers say about their experience with us.
Fujitsu Recovery by Data-R-US in few words
Data recovery for Sugar Foods Corporation, Brian W., Sun Valley, California
The hard drive makes a repetitive clicking sound.
Thanks for your help in this case too. Your knowledge and expertise in the area is really impressive, you practically recover all of our drives we sent for recovery. We appreciate your business very much!
Data recovery for Daniel D., Durango, Colorado USA
The problem symptom - unable to access the drive; no attempts to recover, the disk could not be detected on CMOS level. Drive examined by certified Mac service shop. Tech said the hard drive has mechanically failed.
Thank you for your efforts and support in retrieving this data; it's very well appreciated.
Data recovery for Kimble Clay & Limestone Co, Dover OH USA
The hard drive failed after Power Surge
Thanks for your service; definitely we'll be using your company for all our data recovery needs.
Data recovery for Fred R. In-Home Advanced Technologies Narberth, PA USA
Trying to connect drive to a desktop using a converter causes the desktop to blue screen. Other laptop hard drives connect just fine using the same converter. Trying to boot the laptop with the hard drive causes the laptop to blue screen immediately.
Great job!!! The client is satisfied 100%, well so am I. Thanks guys again
Data recovery for QuikPro Equipment Services, Edmonton, Alberta
This hard drive was already in other data recovery company in Ottawa; they tried rewriting the modules, even using new controller hot-swap but were unsuccessful. Only one head was able to be activated.
Thank you for another successfully recovered job. You guys ARE incredible!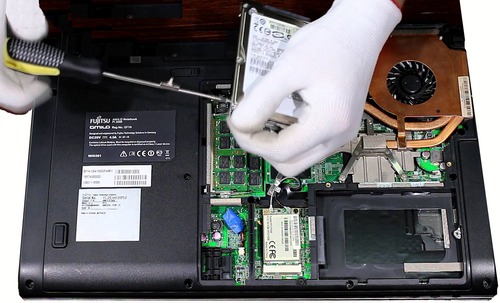 Removing failed Fujitsu Hard Drive from a laptop computer
Entrust your crashed Fujitsu to a true data recovery specialist. The wrong decision made in the beginning of disastrous situation might cost you an inevitable data loss. Data-R-Us has been restoring the lost data from the malfunctioning hard drives by Fujitsu for over two decades. We are truly the Professionals in data recovery business, delivering the best of the possible results. Our engineers succeed there where many have failed. Our clients are loyal to us: once they used our service - they do not look further! Our data recovery service is a guarantee of the high-rank professionalism.
In many cases we are successful to recover the whole operating system. Then a new hard drive may be used as a bootable clone of original disk. Check for details in Help section.