Toshiba Data recovery services

David C.
Picayune, Mississippi United States
Hitachi IC25N060ATMR04-0 external mobile
From Customer's order
HDD was dropped. Took it to BEST BUY they used a hard drive enclosure and it did not read anything...
After recovery:
Thanks! I am so thankful for your work! Dave
Michael C.
Quinnipiac University
Hamden, Connecticut United States
HGST TOURO Mobile 2 Tb external mobile
From Customer's order
XP downloaded & executed automatic updates the night before. In the morning, the disk would not mount. I get a Code 10 error--'this device cannot start'
After recovery:
Thanks for the speedy, great service. Fantastic results!
Michael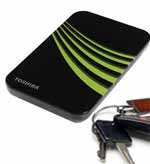 External Toshiba drives: Mobile data storages
Toshiba External Hard drive Data Recovery
Failed Toshiba hard drive is not a big problem for our top-notch engineers to recover all or almost all files from it. The recovered data will be copied on to spare drive or burned to CD's or DVD's.
You may always see the latest status of the recovery process or any other information (shipping, delivery, payment balance) online, by logging in to your profile and view the current order status.