Laptops have become the popular device for the personal computing and its usage keeps growing at the fast pace in our modern society for the reason of their mobility as it happens to be their absolute advantage compare to the desktop machines. Laptops quite often are used by users to work off-site while traveling that is why they are the subjects of a lot more of technical failures, danger and abuse. Even though the data recovery process for laptop hard drives is similar to desktop type ones, it is yet required much more fine tools, equipment and professional skills. Data-R-US success ratio in recovering data from laptop hard disks is up to 99.9%, which speaks itself for our high professionalism and enormous experience to handle the cases where prior undertaken recovery attempts by the other recovery companies did not succeed.
In addition to all of the above, the great deal is that Data-R-Us data recovery lab provides its service for all laptop/notebook hard drives (2.5", 1.8", 1.3" and 1" disk form-factor size for HDD and SSHD), as well as all types of interfaces and connectors (SATA, MicroSATA, Mini-SATA mSATA, eSATA, eSATAp, micro SATA uSATA, and ZIF for HDD/SSHD and SSD - solid state drives) at one absolutely firm, fixed price regardless the failure issue. And that will cover any mechanical component failure (stuck or vibrating spindle motor, crashed system of reading heads, or physical failure related to clicking/ ticking/grinding noise symptoms).
When you give us your laptop for data recovery, you don't have to worry about what was the issue of data loss, whether it was an user error (accidental reformatting), the physical trauma (dropped laptop, spilled water), data corruption, firmware damage (power surge/failure), or data loss with error message like drive failed. For the data recovery process involves operations with the bare data drive only, you don't need to give us the whole computer. Normally, the drive's removal does not void the computer warranty and technically, it's a simple routine process can be done for most of PC or Apple Mac notebooks by yourself. Refer to laptop manual, the online sources, or drive removal instructions on Data-R-US website to extract drive safely for computer and data.
Removing a drive from your laptop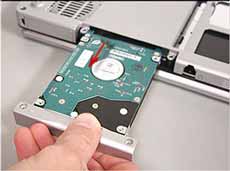 The following links will help you to remove the hard disk drive from the machine:
Few notes about laptop data safety
What is the best reliable and secure laptop drive to select for data safety sake from the point of view of Data-R-US recovery specialists?
Let's see. Of course, the drive must be reliable and work many years in laptop with minimum risk to fail. But eventually, any device may fail and lock your data inaccessible. That is why we would rather recommend a drive that is more or less easy to repair and recover. In general, we would recommend a hard drive for data backup and data storage, but not SSD. If you have to use the data encryption, select rather whole-drive encryption system built into hard drive architecture – preferably from drive manufacturer (as in WD MyBook), otherwise you may stick with technically impossible decryption task.
WD, Seagate, Toshiba, or HGST?
Speaking about brands, we have some statistics only for relatively older hard drives. The new drive after crash may be more recoverable in compare to the same brand its predecessor, and vice versa – it may be designed with less recoverability. For example, Toshiba used to make the most easy-recoverable hard drives. Practically all Toshiba drives were recoverable few years back – maybe due to fact they had most tender-touch heads and scratch-proof platters. One way or another, the magnetic data layer was intact and recoverable in most cases. The similar recovery reliability we observed on Western Digital drives. On the other hand, the speedy drives from Seagate are more prone to problems related to fast platters degradation by deformed or overused (after initial failure) internal reading heads.
The general problems with overused drives are an internal failure of heads, and as result - dust and scratches on the disk platters. The only recommendations for those terminal drive diseases are to stop using the drive, do not allow disk spinning, do not power the drive, give the recovery specialist a better chance to extract your files.
Of course, Data-R-US Lab is aimed to successfully retrieve files from any data device, regardless the complexity and condition of the medium.
Few Live Recoveries
Adam S., Cincinnati Ohio, United States: Acer PC laptop
I was working on my computer and noticed a message 'to resume press F1'. Computer stopped suddenly and could not find hard drive with data files. Drive has not be opened and with original circuit board. Local tech help said the heads arm strike the pin stoppers under the magnet, and probably beat the disks too.
You saved my two months of work and more.
Andy from Queens, NYC: Apple Macbook Pro
Laptop failed after Power Surge. The drive is encrypted with data security software. The drive became inaccessible after attempting to backup data with a USB/SATA device. The drive utility tool was reporting that the drive was failing and an attempt was made to recover files before failure. But after attempting to recover files the drive became inaccessible. The drive has not being opened and has all original parts. If unable to recover DATA then an image of the drives (two partitions) copied to a new drive will be acceptable. Only the second (data) partition is required if data can be extracted.
Awesome, guys. Tried many services and yours was the most cost effective and guess what. I got all my data from a burnt drive. I recommend your services to my company and they will be referring clients to you who need your services. Thanks again.
MacDill Air Force Base, Tampa Florida USA: Western Digital WD Book Essential 1000 Gb
Drive has a single partition only (Windows Volume). This drive was in my external WD enclosure that just no longer powered up after about 1 year of sitting on my side desk. It was not physically abused. I only suspect power surge may have damaged the drive's board (firmware?). I bought another external drive enclosure and still no power was coming to the drive. Besides, the drive doesn't spin with a new circuit board (no spin-up sound).
All required files were successfully restored.
Top Layer Networks, Westboro, MA 01581 USA: 1.0TB WD10JPVX WD Blue laptop HDD
Unable to access the failed drive. We need you to recover for us all files and test few important ones.
Once again, thank you for all your outstanding work in recovering our data. We are very please with the results of the data recovery process and your amazing services in achieving those results.