How to remove a Hard Drive
From Karen L.
US District Court
Fresno, CA USA
Maxtor 6Y080L0 external disk
Drive is failed in OS
Attempts by IT guy - not successful; says hardware problem. IO error. He did take apart the case.
After recovery:
Thank you so much!!! I am really frilled by your outstanding services! My highly recommendations to anyone in need of fixing this kind of disaster I'd gone through. Superb!!!
From Steven F.
Howell, Michigan USA
Toshiba MK4021GAS laptop disk
Clicking hard drive examined at Circuit City. They recommended data recovery.
After recovery:
Thank you very much for your outstanding recovery services. I got my data and back in business, I was so devastated by what happened and worried about recovery outcome big time. Now when it's all in the past I can breathe again, thanks to you guys, a year of work I cannot even think how I would have restored it by myself, if ... :(
Best regards,
Steven
From David C.
Picayune, Mississippi United States
Hitachi IC25N060ATMR04-0 external mobile disk
HDD was dropped. Took it to BEST BUY they used a hard drive enclosure and it did not read anything...
After recovery:
Thanks! I am so thankful for your work! Dave

How to Remove a Hard Drive from Apple Desktop Computer
The only tool required for this procedure is a Phillips screwdriver. While some models may look slightly different from the one shown in the illustrations, the steps for all models are the same.
Power Mac G5 hard drive removal instructions
The Power Mac G5 computer can accommodate two Serial ATA hard drives in its internal
hard drive bay. In most configurations, a single hard drive occupies the top portion of the
bay.
Open the computer case:
Hold the side access panel [2] and lift the latch [1] on the back of the computer.
Remove the access panel [2].
Remove the air deflector [3].

Removing the failed Hard Drive(s):
Release the drive locking tab by rotating it up [1]
Disconnect the drive data cable [2] and power cable [3] from the hard drive.
Pull the drive out of the drive bay [4], being careful not to touch the bottom of the drive.
Notes: If you encounter resistance, use a flatblade screwdriver to release the latches on the drive bay rails as you pull the drive out of the bay. (See circled areas on the illustration below.) If two drives are installed, remove the bottom drive first. To avoid damaging the printed circuit board (PCB), take care not to touch the PCB during installation.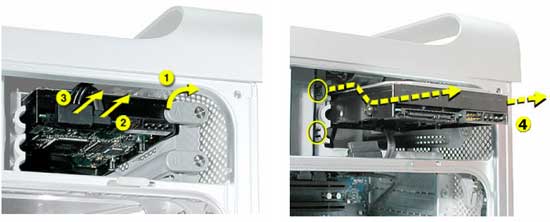 Remove the four guide screws on the sides of the drive.
Keep those screws for a new drive installation.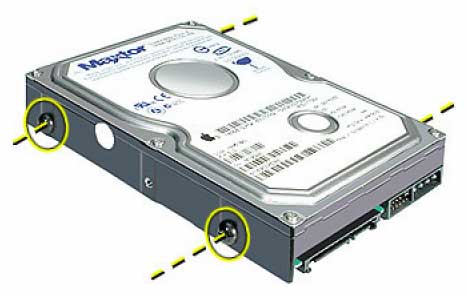 After you are done with the hard drive removal you may proceed to placing the data recovery order.